Your Weatherford Refrigeration Rental Experts
If you have to keep a supply of meat or ice on hand, then you're going to need a freezer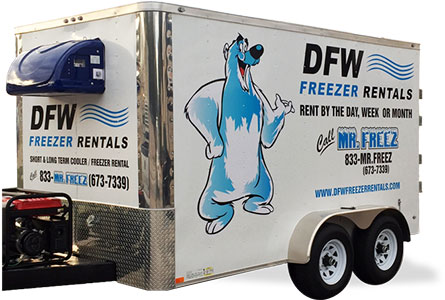 Are you in the market for a rental refrigerator or freezer for your restaurant, construction site, or large-scale community event? If you are, you need to call DFW Freezer Rentals today. Our Weatherford team offers quality freezer and refrigerator products to help you safely store your food for whatever purpose you may need it for.
We make it our mission to provide dependable units on site in a timely manner to ensure you don't have to suffer from any loss of food or product. Don't hesitate to give our Weatherford freezer rental company a call today if you're looking to get a portable refrigeration unit for your business or event.
Freezer Rentals for Your Weatherford Restaurant
Should your Weatherford restaurant's freezer suddenly go out on you, you might find yourself feeling far more than a little stressed. After all, this problem could easily and quickly lead to a devastating loss of food product -- a problem which could greatly eat into your bottom line.
To ensure your restaurant remains successful and profitable, you need to ensure that you always have a solid backup plan for those moments when your freezers might go down. Of course, the most dependable backup plan is to call us for a freezer rental when you find yourself without a freezer of your own for some time.
Get a Rented Refrigerator for Your Large Community Event
Are you throwing or involved with a large-scale community event? If you are, you need to keep in mind one factor that can make or break how well your event is received: the food. For your event to really pop, its food needs to be as high quality as you can manage.
To manage to keep your food in the highest-quality condition, you need to make sure to store it properly. To do that, you need to refrigerate the items that require refrigeration. Don't have access to that kind of installation at your community event? That's no problem: Just call us for a refrigerator rental that will keep all of your event's food in the best condition!
How Can Mr. Freez Help You
Why should you pick DFW Freezer Rentals for all of your refrigeration rental needs? Easy: quality. Quality in everything we do. We offer only high-quality freezers and coolers. We provide high-quality customer service to make your refrigeration rental the smoothest one possible. We provide quick, quality delivery services to get that rented freezer or cooler to you as quickly as we can. Your restaurant, pharmacy, or catering company (or other such company) should be the most successful one possible. And a great way to ensure that it is every bit that successful is to keep your valuable perishable products from spoiling. And to keep your perishables from spoiling, call on DFW Freezer Rentals whenever your access to reliable refrigeration becomes compromised. We at DFW Freezer Rentals can help to keep your business as successful as can be thanks to our quality mobile walk-in freezer and cooler rentals!

Brilliant and Affordable. When you need somewhere to store your money (products) while your equipment is down, give them a call!!
- Dustin P.
Read More
If you need a freezer rental in Weatherford, then please call DFW Freezer Rentals at 1-833-673-7339 or complete our online request form.