Our Fort Worth Freezer Rentals Help Avoid The Expense Related To Loss Of Perishable Product
We at DFW Freezer Rentals can keep your valuable goods chilled or frozen throughout ANY construction or renovation thanks to our mobile freezing and cooling units!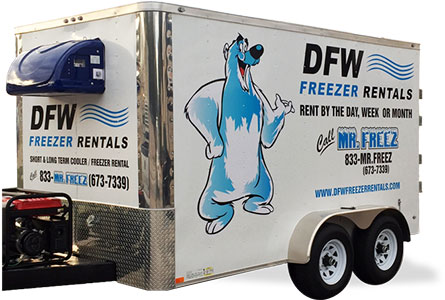 Many kinds of businesses require a commercial-grade freezer or cooler: restaurants, pharmacies, grocery stores, etc. And, unfortunately, like any business, at some point, these kinds of businesses could someday require construction or remodeling -- which could put the refrigeration units out of commission for some time. Fortunately, though, this situation doesn't have to be a harrowing (and COSTLY!) one -- not when you can simply call on the Dallas Fort Worth pros at DFW Freezer Rentals! Our Fort Worth Freezer Rental experts can keep your valuable goods chilled or frozen throughout ANY construction or renovation thanks to our mobile freezing and cooling units! If you want to avoid the expense related to loss of perishable product, then call up DFW Freezer Rentals for a mobile freezing or cooling unit rental just as soon as you need one!
Mobile Freezer Rentals Will Keep Your Ice Froozen
Do you work with ice in a significant capacity? Perhaps you run a catering business or a restaurant or even a pharmaceutical company. Whatever the case may be, if you work with large quantities of ice, you'll want to keep that product intact -- lest you lose much of your product and livelihood! Should your ice-reliant business's access to a freezer become compromised because of construction or perhaps even a move, you needn't sit back and watch helplessly as your valuable product turns to worthless water. Instead, just call up DFW Freezer Rentals, and we'll supply you with a quality mobile freezing unit for just as long as you may need one!
Mobile Cooler Rentals Will Keep Your Produce, Dairy, and Cold Cuts Cool
Maybe you don't work heavily with ice and other products that are best kept frozen until needed. Maybe you work with products that simply need to be kept cool when not in use: produce, dairy, cold cuts, and the like. Like your frozen goods, your cooled goods need to remain cooled no matter what. So if you're going through a renovation or repair work on your cooler, you need to call on DFW Freezer Rentals for our Freezer Rental Services to help keep your valuable perishables good no matter what!
FORT WORTH'S FREEZER RENTAL PROS
With its many attractions, Fort Worth certainly proves to be a great city to settle into and call your own. Home to the Bass Performance Hall, Kimbell Art Museum, Fort Worth Zoo, and many other great attractions -- both artistic and sporty -- Fort Worth offers something for everyone to enjoy! On top of its many recreational draws, Fort Worth also offers a draw for anyone looking to open a restaurant or the like here: DFW Freezer Rentals. With DFW Freezer Rentals, you need never fret over your ability to keep your foods preserved as they need to be. Should your access to a freezer or cooler be compromised because of construction or such, then just call up DFW Freezer Rentals for a quick mobile cooler or freezer rental!
How Can Mr. Freez Help You
Why should you pick DFW Freezer Rentals for all of your refrigeration rental needs? Easy: quality. Quality in everything we do. We offer only high-quality freezers and coolers. We provide high-quality customer service to make your refrigeration rental the smoothest one possible. We provide quick, quality delivery services to get that rented freezer or cooler to you as quickly as we can. Your restaurant, pharmacy, or catering company (or other such company) should be the most successful one possible. And a great way to ensure that it is every bit that successful is to keep your valuable perishable products from spoiling. And to keep your perishables from spoiling, call on DFW Freezer Rentals whenever your access to reliable refrigeration becomes compromised. We at DFW Freezer Rentals can help to keep your business as successful as can be thanks to our quality mobile walk-in freezer and cooler rentals!

Brilliant and Affordable. When you need somewhere to store your money (products) while your equipment is down, give them a call!!
- Dustin P.
Read More
If you need a freezer rental in Fort Worth, then please call DFW Freezer Rentals at 1-833-673-7339 or complete our online request form.