Mansfield Freezer Rentals For Catering Business
How do you preserve the food your customers expect when you don't have access to a kitchen and its accoutrements of preservation?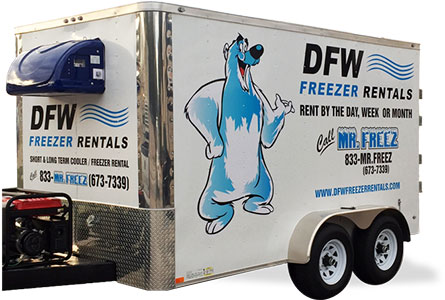 With its extensive park system and many baseball fields, Mansfield, Texas certainly has more than enough venues to cater to any outdoorsy type's needs! And speaking of catering -- if you run a catering business here in Mansfield, then you might find yourself facing a dilemma that only such an outdoorsy city as this one can offer: How do you preserve the food your customers expect when you don't have access to a kitchen and its accoutrements of preservation? The answer is simple: by calling on DFW Freezer Rentals! No matter where your catering job might be taking place, we at DFW Freezer Rentals can help keep your food preserved and your business flourishing thanks to our quality Freezer Rental Services! A catering business is only as good as the quality of its food. And to keep the quality of your food and, thus, your catering business absolutely top-notch, be sure to call on our Mansfield Freezer Rental company any time you have to cater an outdoor event!
Freezer Rentals For Your Catering Business
What is an outdoor get-together without ice for the drinks? A very hot one, indeed -- one that partygoers might not be keen to experience again. In other words, it's an experience that could hurt your catering business should your business be responsible for such an experience. To avoid creating such a bad catered experience, just call on DFW Freezer Rentals for freezer rentals. No matter the location, we at DFW Freezer Rentals can furnish your catered affair with an attractive and reliable freezer unit that will keep the party WELL-supplied with ice!
Freezer Rentals For Products That Doesn't Need To Remain Frozen
Of course, not all perishables need to remain frozen. Sometimes, they simply need to remain COOLED in order to preserve their flavor and edibility. These perishables include cold cuts, cheeses, salads: the staples of a good get-together. To keep the partygoers at your catered affair happy, be sure to keep them supplied with these staples. And to keep them supplied thusly, be sure to call on DFW Freezer Rentals to provide YOU with a cooler to keep those staples in, no matter WHERE that catered affair might be taking place!
Mansfield's Freezer Rentals Can Keep Your Outdoor Get Togethers Well Stocked With Amenities Such As Ice And Food
Mansfield is a wonderful city if you're looking for somewhere with plenty of outdoor activities to enjoy. With its many baseball fields, its Hawaiian Falls Water Park, and its 11 parks, Mansfield has an outdoor activity to satisfy even the most outdoorsy types among us! Should you be so outdoorsy that you want to enjoy major events (birthdays, weddings, etc.) in Mansfield's great outdoors, then you're STILL in luck thanks to Mansfield's very own DFW Freezer Rentals! We at DFW Freezer Rentals can keep your outdoor get-togethers well stocked with amenities such as ice and food thanks to our quick, affordable freezer and cooler rentals!
How Can Mr. Freez Help You
Why should you pick DFW Freezer Rentals for all of your refrigeration rental needs? Easy: quality. Quality in everything we do. We offer only high-quality freezers and coolers. We provide high-quality customer service to make your refrigeration rental the smoothest one possible. We provide quick, quality delivery services to get that rented freezer or cooler to you as quickly as we can. Your restaurant, pharmacy, or catering company (or other such company) should be the most successful one possible. And a great way to ensure that it is every bit that successful is to keep your valuable perishable products from spoiling. And to keep your perishables from spoiling, call on DFW Freezer Rentals whenever your access to reliable refrigeration becomes compromised. We at DFW Freezer Rentals can help to keep your business as successful as can be thanks to our quality mobile walk-in freezer and cooler rentals!

Brilliant and Affordable. When you need somewhere to store your money (products) while your equipment is down, give them a call!!
- Dustin P.
Read More
If you need a freezer rental in Mansfield, then please call DFW Freezer Rentals at 1-833-673-7339 or complete our online request form.