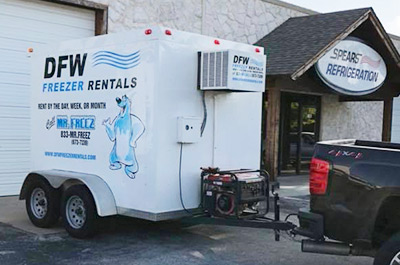 Dallas Fort Worth Cooler & Freezer Rentals
Do you run a kitchen? If you do, then you're probably good and aware of the sheer number of products you need to keep on hand: basic things from sauces and flour to more esoteric items such as saffron and other unusual spices. And, of course, your perishables such as meat and dairy. And those perishables can certainly be a frustrating thing to deal with once you get them in large enough quantities. After all, it's not as though you can simply store meat and cheese and the like just ANYWHERE. No -- you need to store them in a freezer or cooler. Should you run OUT of freezer or cooler space to accommodate your perishables, don't fret. Just call up DFW Freezer Rentals, and we'll equip your restaurant with a quality
Freezer Rental
that you can rent for just as long as you need to! Sometimes, the holidays might necessitate keeping more food on hand than you might typically keep -- or even have room for. And when that time comes, you can count on DFW Freezer Rentals to provide you with all the extra storage you need to comfortably and safely store your perishables!
Temporary Cooler Rental To Keep Your Products Cool & Safe
You have a responsibility that many other kinds of businesses don't have: to maintain a reliable freezing or cooling unit.
If you run a business that contains products that NEED to be kept cool (food, medicine, that sort of thing), then you'll want the peace of mind to know that, no matter what, those products are being kept as cool and as SAFE as can be. And if you ever have to call on DFW Freezer Rentals for a temporary cooler rental to get you through construction work or something else that puts your own cooler out of commission for a time, then you can rest assured that you are getting only the most reliable cooling units available! We at DFW Freezer Rentals pride ourselves in maintaining only the best-quality cooling units, so you can rely on us to provide you with only the safest and most reliable cooling units out there. And to be SURE your cooling units will be just as cool as you need, we help by providing them with a power supply (via our on-hand generators) should you be incapable of supplying your own power for one reason or another. Your perishable goods are valuable, and losing them could be financially disastrous for you and your company. To avoid such a problem, just call up DFW Freezer Rentals for safe and reliably cool mobile refrigeration solutions as the need becomes pressing!
Rented Refrigeration Units Brought To You
If you need to rent something as large as a refrigeration unit, then you might find yourself almost reticent to put in an order for one as you face the prospect of having to find a way to haul that heavy monster all the way to your location. With DFW Freezer Rentals, however, you needn't sweat that prospect. And why is that? Simple: because we at DFW Freezer Rentals save you the hassle of getting your rented refrigeration unit to your needed location thanks to our DELIVERY SERVICE! If you are facing a situation that requires that you get a temporary refrigeration solution, then you likely already have enough on your mind without worrying about simply GETTING that refrigeration unit to where you need it to be. And thanks to DFW Freezer Rentals and our delivery service, you don't HAVE to add the stress of transport to everything else you're already stressing over. Just let us handle that work while you wait for your quality refrigeration unit to come to you!
Dallas Fort Worth Freezer And Cooler Rentals For A Temporary Refrigeration Solution
Do you own or operate a restaurant? A pharmacy? Maybe a catering company? If so, then you have a responsibility that many other kinds of businesses don't have: to maintain a reliable freezing or cooling unit. After all, many products in such businesses go bad VERY quickly if left at room temperature. Unfortunately, certain factors beyond your control might render you devoid of a reliable cooler or freezer for your products. Your business might require construction work that interferes with your refrigeration unit's operation. Or you might simply have a surplus of perishables with no room to keep it all. Whatever the case may be, if you are in the market for a temporary refrigeration solution, then call on DFW Freezer Rentals. With our mobile walk-in freezer and cooler rentals, we at promise to help keep your perishable goods from perishing for just as long as you need! We rent by the day, by the week, and by the month, so no matter how long you need a temporary refrigeration solution, you can count on DFW Freezer Rentals to help get you through whatever may be necessitating your need for a mobile freezer or cooler! And thanks to our mobile generators that we can also provide (should you be in need of a power supply for your rental), you can be sure to keep your perishables cooled or frozen no matter where they may be! >If you run a business that uses perishables in the Dallas Fort Worth area, then don't hesitate to call up DFW Freezer Rentals for any and all of your mobile refrigeration rental needs!
How Can Mr. Freez Help You
Why should you pick DFW Freezer Rentals for all of your refrigeration rental needs? Easy: quality. Quality in everything we do. We offer only high-quality freezers and coolers. We provide high-quality customer service to make your refrigeration rental the smoothest one possible. We provide quick, quality delivery services to get that rented freezer or cooler to you as quickly as we can. Your restaurant, pharmacy, or catering company (or other such company) should be the most successful one possible. And a great way to ensure that it is every bit that successful is to keep your valuable perishable products from spoiling. And to keep your perishables from spoiling, call on DFW Freezer Rentals whenever your access to reliable refrigeration becomes compromised. We at DFW Freezer Rentals can help to keep your business as successful as can be thanks to our quality mobile walk-in freezer and cooler rentals!

Brilliant and Affordable. When you need somewhere to store your money (products) while your equipment is down, give them a call!!
- Dustin P.
Read More
---
Top Ways Portable Refrigeration Can Help You
Anyone who has spent any amount of time in the Dallas Forth Worth area knows just how hot the weather can get. That already helps explain why freezer rentals are in such high demand. However, if you have never used this type of service before, you may be thinking you couldn't possibly benefit. Here are a few ways this could help you, that will prove you wrong:
What Kinds of Businesses Might Need a Refrigeration Rental
A business is not an island, and it does not live in a vacuum in which it cannot communicate with other businesses or be communicated to by other businesses. Rather, businesses are symbiotic. Many of them work in tandem in order to create a healthy economic ecosystem in which they can all flourish.
---
If you are looking for freezer & cooler rentals then please call 1-833-673-7339 or complete our online request form.