Your Freezer & Refrigerator Rental Service In Richardson
There is nothing easier than making a simple phone call to get a freezer or refrigerator delivered to you. With DFW Freezer Rentals, we make renting a refrigerator or freezer in Richardson easy.
Our rental trailers and walk-in freezers & coolers solve all types of short-term and long-term problems. Business owners often need an emergency solution to keep food and beverages cold. Local catering businesses, pharmaceutical facilities, food distribution facilities, and more rely on our service as well.
The next time you need a temporary cold storage solution, call us to ask about our freezer and refrigerator rentals. You are going to love the excellent service and top-quality equipment we provide.
You are going to love the excellent service and top-quality equipment we provide.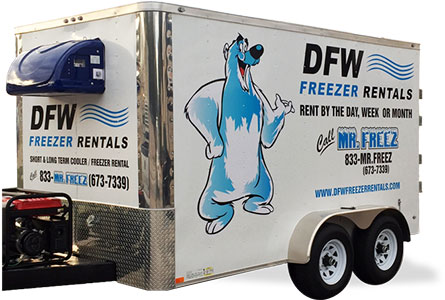 Keep Your Catering Food & Beverages Safe And Cool
When you run a catering business, it can be very inconvenient if you don't have a freezer or refrigerator at the event location. You'll need to keep food and beverages at safe temperatures so they don't spoil. Plus, your client will depend on you for fresh service.
Our short and long-term freezer and cooler rentals solve this problem. Since we deliver the equipment to your location, it's a very easy set-up for you.
5' x 10' trailers
7' x 12' trailers
We deliver & set up
You Don't Have To Worry About Hauling
When you rent one of our quality freezers or refrigerators, you won't have to worry about hauling it to your business. We do all the heavy lifting for you. We also set the equipment up very easily.
Remodeling Your Restaurant?
During the remodeling, your commercial kitchen will need to shut down. This means the freezer and cooler that stores all your food will be turned off.
The simplest solution is to rent our walk-in freezers and coolers. Just call for more details so you can quit worrying about what to do with all your perishable assets.
How Can Mr. Freez Help You
Why should you pick DFW Freezer Rentals for all of your refrigeration rental needs? Easy: quality. Quality in everything we do. We offer only high-quality freezers and coolers. We provide high-quality customer service to make your refrigeration rental the smoothest one possible. We provide quick, quality delivery services to get that rented freezer or cooler to you as quickly as we can. Your restaurant, pharmacy, or catering company (or other such company) should be the most successful one possible. And a great way to ensure that it is every bit that successful is to keep your valuable perishable products from spoiling. And to keep your perishables from spoiling, call on DFW Freezer Rentals whenever your access to reliable refrigeration becomes compromised. We at DFW Freezer Rentals can help to keep your business as successful as can be thanks to our quality mobile walk-in freezer and cooler rentals!

Brilliant and Affordable. When you need somewhere to store your money (products) while your equipment is down, give them a call!!
- Dustin P.
Read More
For more information about our freezer and refrigerator rentals in Richardson, please call DFW Freezer Rentals at 1-833-673-7339 or complete our online request form.