Arlington Freezer Rentals Are The Perfect Option If You Need A Temporary Refrigeration Solution For Your Business
If you have to keep a supply of meat or ice on hand, then you're going to need a freezer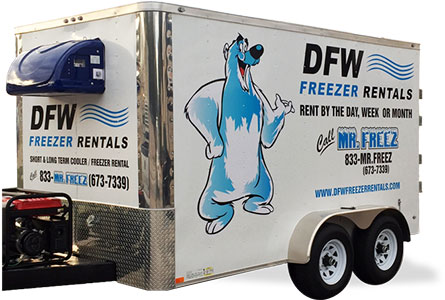 Mobile freezers and coolers are the perfect option if you need a temporary refrigeration solution for your business. Whether you run a restaurant or a pharmacy, you can count on a mobile refrigeration unit to help keep your valuable products from spoiling when your own refrigeration becomes unavailable. And just what situations might leave you without a cooling or freezing unit? Well, your business might be under construction or remodeling, to name one situation. To name another, you might simply be a caterer whose current location does not provide refrigeration for the goods you need to prepare and serve. Should your business be facing any situation that renders you without proper refrigeration, don't panic at the prospect of losing your valuable product! Instead, just call up the Dallas Fort Worth pros at DFW Freezer Rentals for a quality mobile freezing or cooling unit! Our Arlington Freezer Rental experts can provide you with an attractive and functional mobile refrigeration unit in no time flat! If you run a company that needs CONSTANT refrigeration, then call on DFW Freezer Rentals the moment your own refrigeration might become compromised!
Use Our Freezer Rentals So You Don't Ever Have To Worry About Losing Your Valuable Product!
If you have to keep a supply of meat or ice on hand, then you're going to need a freezer. This is true whether you run a butcher shop, a restaurant, a grocery store, a fish market, or a variety of other food-related businesses. Your food products are expensive and oftentimes come in very large quantities, so it's imperative that you always keep them frozen when need be. And with Freezer Rental Services provided by DFW Freezer Rentals, you don't ever have to worry about losing your valuable product!
Cooler Rentals For Products That Simply Need To Be Kept Cooled
Of course, not ALL food products need to be kept frozen. Many simply need to be kept COOLED. And if your restaurant, grocery store, or other food-based business has such food, you'll need to be sure that, no matter what, that food stays cool. Should your business be undergoing construction or something else that might compromise your ability to keep your valuable products cooled, then just call on DFW Freezer Rentals, and we'll provide you with a quality mobile cooling unit in no time flat!
ARLINGTON'S MOBILE FREEZING PROS
Are you looking for a great city that will provide you with many great things to do during your downtime? If so, then head on over to Arlington, Texas! Home to Six Flags over Texas, the Parks Mall, and the Planetarium Dome Theatre, the city of Arlington certainly has something to offer everybody! Combine Arlington's excellent shopping and entertainment scene with its top-notch mobile freezing experts at DFW Freezer Rentals, and you've got a combination for one of the most compelling places to settle into as both a homeowner and a restaurateur!
How Can Mr. Freez Help You
Why should you pick DFW Freezer Rentals for all of your refrigeration rental needs? Easy: quality. Quality in everything we do. We offer only high-quality freezers and coolers. We provide high-quality customer service to make your refrigeration rental the smoothest one possible. We provide quick, quality delivery services to get that rented freezer or cooler to you as quickly as we can. Your restaurant, pharmacy, or catering company (or other such company) should be the most successful one possible. And a great way to ensure that it is every bit that successful is to keep your valuable perishable products from spoiling. And to keep your perishables from spoiling, call on DFW Freezer Rentals whenever your access to reliable refrigeration becomes compromised. We at DFW Freezer Rentals can help to keep your business as successful as can be thanks to our quality mobile walk-in freezer and cooler rentals!

Brilliant and Affordable. When you need somewhere to store your money (products) while your equipment is down, give them a call!!
- Dustin P.
Read More
If you need a freezer rental in Arlington, then please call DFW Freezer Rentals at 1-833-673-7339 or complete our online request form.