Rockwall Freezer and Refrigerator Rental Experts
If you have to keep a supply of meat or ice on hand, then you're going to need a freezer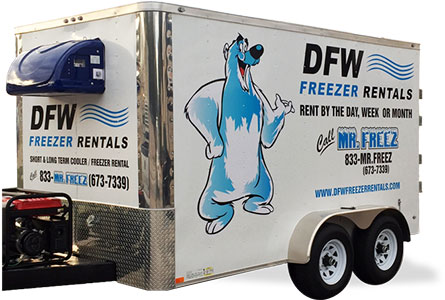 Any restaurant owner understands the vital importance of maintaining access to dependable freezers and refrigerators, which you can easily enjoy by calling the Rockwall pros at DFW Freezer Rentals. We offer quality products that we can have on site in no time when you suddenly find yourself confronted with a downed cooling or freezing unit.
You don't need to own a restaurant to use our unbeatable services, though. We also offer our rental units for catering, construction, and large events. Call our Rockwall freezer rental company today if you're in the market for any of the quality products that we lease.
Call Us for Your Restaurant's Temporary Freezer Needs
A successful restaurant relies on the use of a variety of important things. Of course, there are the stoves and other devices for actually cooking and handling the food. Then there are the freezers that work day and night to ensure your valuable and necessary food products don't spoil, costing you thousands.
If your freezer gives out unexpectedly after so many months and years of continuous work, you need to give our Rockwall team a call ASAP. We offer rental refrigeration units that will be on site in no time to ensure you don't suffer a financially devastating loss of product.
Make Your Large Event One to Remember with Our Refrigerator Rentals
To make a good event a great one, you need to provide excellent food for it. This means you need to offer something more substantial than the kinds of dry foods you might expect as such gatherings: chips and the like. Of course, that kind of food needs to be refrigerated in order to remain edible.
No, you may not have access to a refrigerator for such an event, especially one large enough to accommodate it, but what you do have is access to DFW Freezer Rentals. We can provide a quality commercial refrigeration unit that will help you bring the food you need to make your large community event one to remember.
How Can Mr. Freez Help You
Why should you pick DFW Freezer Rentals for all of your refrigeration rental needs? Easy: quality. Quality in everything we do. We offer only high-quality freezers and coolers. We provide high-quality customer service to make your refrigeration rental the smoothest one possible. We provide quick, quality delivery services to get that rented freezer or cooler to you as quickly as we can. Your restaurant, pharmacy, or catering company (or other such company) should be the most successful one possible. And a great way to ensure that it is every bit that successful is to keep your valuable perishable products from spoiling. And to keep your perishables from spoiling, call on DFW Freezer Rentals whenever your access to reliable refrigeration becomes compromised. We at DFW Freezer Rentals can help to keep your business as successful as can be thanks to our quality mobile walk-in freezer and cooler rentals!

Brilliant and Affordable. When you need somewhere to store your money (products) while your equipment is down, give them a call!!
- Dustin P.
Read More
If you need a freezer rental in Rockwall, then please call DFW Freezer Rentals at 1-833-673-7339 or complete our online request form.