Flower Mound Freezer & Refrigerator Rentals
DFW Freezer Rentals provides temporary cold storage equipment in Flower Mound. Our refrigerator and freezer rentals are the fastest and easiest way to keep perishables cold.
We rent commercial coolers and walk-in freezers to pharmaceutical facilities, restaurants, catering businesses, convenience stores, and other businesses in the area. Our rentals are available by the day, week, or month whether it's an emergency or a scheduled event.
This is your solution for remodeling, extra storage space during holidays, or when the equipment you own breaks down. It's also great for corporate events and other special occasions. Just call with any questions and we'll be glad to provide more information.
This is your solution for remodeling, extra storage space during holidays, or when the equipment you own breaks down.
Need To Rent An Environmental Test Chamber?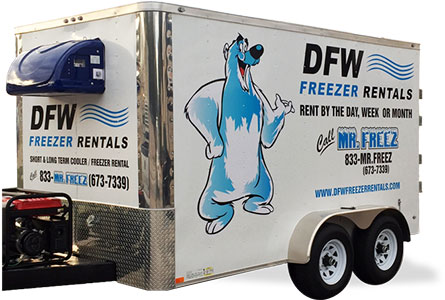 If you need to test certain biological, industrial, electronic, or material items in specific environmental conditions, we rent environmental test chambers in Flower Mound.
The equipment you choose must be able to generate the conditions reliably. We rent top-of-the-line equipment that you can depend on for a day, week, or for several months to come for pharmaceutical refrigeration, cold-storage solutions, and environmental test chambers.
Did Your Commercial Freezer Or Cooler Fail?
We carry and deliver walk-in freezers and coolers that are quick and easy for us to set up. You can choose from our cooler rental trailers or we can set the unit on almost any type of flat surface.
We also supply local businesses with freezer or refrigerator rentals that provide the extra storage space needed during unexpected temporary situations. For instance, restaurants go through peak times and seasons when they need to store the extra ingredients for a short period of time.
5' x 10' Trailer
7' x 12' Trailer
Walk-in coolers
Walk-in freezers
Need A Portable Refrigeration Unit For A School?
All businesses grow, including schools. It's not uncommon for a school to set up additional cooling equipment in addition to portable classrooms before permanent construction can begin.
DFW Freezer Rentals wants to be your go-to source for cold storage equipment for your local educational facility. Please call to tell us what you need.
How Can Mr. Freez Help You
Why should you pick DFW Freezer Rentals for all of your refrigeration rental needs? Easy: quality. Quality in everything we do. We offer only high-quality freezers and coolers. We provide high-quality customer service to make your refrigeration rental the smoothest one possible. We provide quick, quality delivery services to get that rented freezer or cooler to you as quickly as we can. Your restaurant, pharmacy, or catering company (or other such company) should be the most successful one possible. And a great way to ensure that it is every bit that successful is to keep your valuable perishable products from spoiling. And to keep your perishables from spoiling, call on DFW Freezer Rentals whenever your access to reliable refrigeration becomes compromised. We at DFW Freezer Rentals can help to keep your business as successful as can be thanks to our quality mobile walk-in freezer and cooler rentals!

Brilliant and Affordable. When you need somewhere to store your money (products) while your equipment is down, give them a call!!
- Dustin P.
Read More
For more information about our freezer and refrigerator rentals in Flower Mound, please call DFW Freezer Rentals at 1-833-673-7339 or complete our online request form.