The Freezer Rental Pros You Can Trust in Cleburn
If you have to keep a supply of meat or ice on hand, then you're going to need a freezer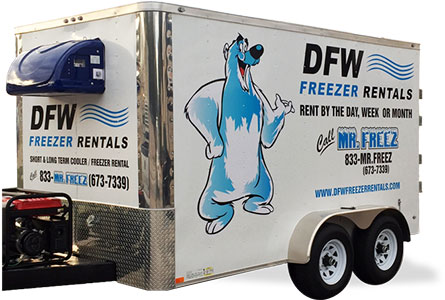 To prevent a costly loss of product for your Cleburn area store or restaurant, you need to have access to dependable freezers and refrigeration units. When you find yourself in need of these installations in a pinch, you need to call DFW Freezer Rentals. We offer some great products for all kinds of events and needs:
Catering
Construction
Large events
Restaurants
And more!
If you want a quality product that you can depend on to keep your food safely preserved, you need to get yours from our Cleburn freezer rental company. We will get a dependable product to your location in the timeliest manner possible so that your event can go smoothly without a hitch.
Commercial Freezer Solutions When You Need Them
In the restaurant industry, a freezer breakdown can quickly translate into a devastatingly costly loss of product. So, you need to take every precaution you can to ensure your freezer always runs dependably. Unfortunately, even your best efforts may not be enough to prevent unexpected breakdowns over time.
If you suddenly find your Cleburn restaurant without a working freezer, don't panic. You can still save your product by calling us for a commercial freezer rental. We'll have a working freezer on site in no time to ensure you don't experience this financially devastating problem.
Portable Refrigeration Unit for Your Events in Cleburn
Not all your food products need to be frozen. You'll need to use many of them in the short run, and that means you need to preserve them for the short run. This means you'll need a refrigerator for your event. Of course, not all events take place somewhere that accommodates this installation.
The good news is you don't have to worry whether the place where you'll be hosting an event provides a refrigerator. Instead, you can call our Cleburn team for a refrigeration unit rental. We'll provide a refrigerated trailer that will keep your short-term food items good for the entire duration of your next event.
How Can Mr. Freez Help You
Why should you pick DFW Freezer Rentals for all of your refrigeration rental needs? Easy: quality. Quality in everything we do. We offer only high-quality freezers and coolers. We provide high-quality customer service to make your refrigeration rental the smoothest one possible. We provide quick, quality delivery services to get that rented freezer or cooler to you as quickly as we can. Your restaurant, pharmacy, or catering company (or other such company) should be the most successful one possible. And a great way to ensure that it is every bit that successful is to keep your valuable perishable products from spoiling. And to keep your perishables from spoiling, call on DFW Freezer Rentals whenever your access to reliable refrigeration becomes compromised. We at DFW Freezer Rentals can help to keep your business as successful as can be thanks to our quality mobile walk-in freezer and cooler rentals!

Brilliant and Affordable. When you need somewhere to store your money (products) while your equipment is down, give them a call!!
- Dustin P.
Read More
If you need a freezer rental in Cleburn, then please call DFW Freezer Rentals at 1-833-673-7339 or complete our online request form.